On many summer Sunday mornings I'd eagerly look forward to poring over box scores and statistics, especially in baseball season.  From the NEW YORK TIMES to the BOSTON GLOBE to the LOS ANGELES TIMES, I'd eagerly await the chance to peruse the leaderboards, the expanded descriptions of how runs were scored, the agate type that could tell far more in a shorter space than any long-winded prose could.
Indeed, my feelings mirrored those expressed in a 2015 piece penned by USA TODAY's Ted Berg:
To some, maybe, baseball's box scores represent only a skipped page in the newspaper, a glut of uninterpreted and decontextualized data. But to those of us who spend our days poring over them, box scores — in baseball more than any other sport — can provide a beautiful framework upon which to imagine and relive the game.
Don't ask how I stumbled my way to the box score for this game, a Sept. 1, 1930 tilt between the first-place Philadelphia A's and the third-place New York Yankees. But it's as good an example as any of the way box scores paint the likeness of a baseball game.
It's embedded here via screengrabs from the wonderful Baseball-Reference.com, a daily must-visit for statistically inclined baseball fans.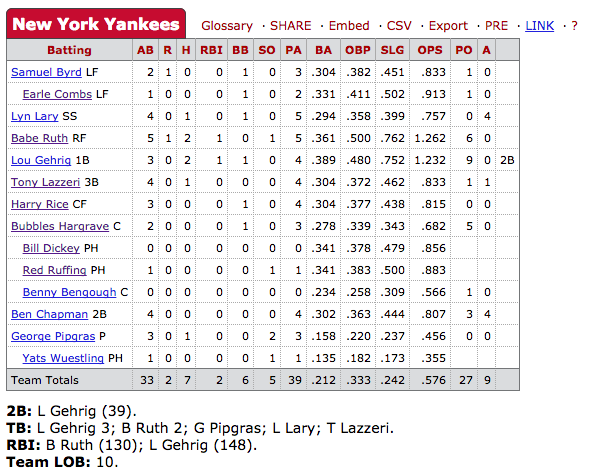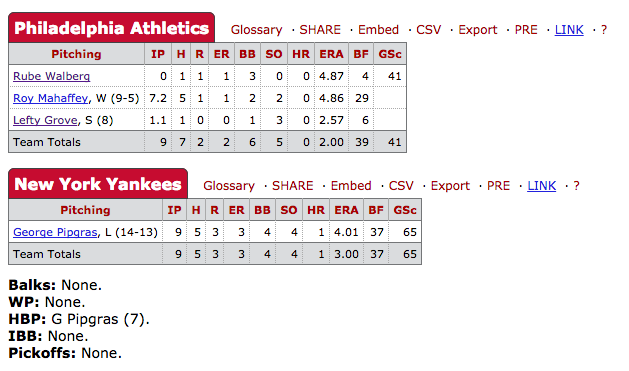 Berg went on to share his insights, what he was able to glean just from those tables of statistics, much like how a Talmudic scholar would discover miracles of history.  A passion I shared, and continue to this day as a way to begin my day amidst coffee, something resembling healthy food and plenty of tears.
But this morning there are a few more tears, as I woke up to see this love note in the Los Angeles Times' sports section:
Dear readers,
Today, we are introducing a new era for the Los Angeles Times sports section.
The printed sports section will take on the look and feel of a daily sports magazine, with a different design showcasing our award-winning reporting and photography. Our new layout highlights our best, most ambitious sports journalism — distinctive work you cannot find anywhere else.
We are making this change to adapt to how readers follow news and sporting events each day while managing rising production costs. You no longer will see box scores, standings and traditional game stories, but those will be replaced by more innovative reporting, in-depth profiles, unique examinations of the way teams operate, investigations, our distinct columnists' voices, elite photography and more.
We remain heavily invested in covering sports spanning Southern California and beyond, with the journalists you know well dedicated to chronicling your favorite teams and athletes while also introducing you to newcomers who soon will make their mark.
You can still find scores, breaking news, instant analysis, commentary and more as games and tournaments are unfolding at latimes.com/sports and via our L.A. Times app. And please sign up for our sports report newsletter at latimes.com/newsletters to get the latest developments delivered to your email inbox early each morning.
I am honored to continue highlighting the incredible talent on the L.A. Times sports staff and look forward to helping guide readers to all we have to offer in our print edition and online. For assistance using your print subscription to access all of our online offerings, visit membership.latimes.com or call 213-283-2274.
Iliana Limón Romero,
L.A. Times sports editor
Excuse my language, but, WTF, you tone-deaf millennial bitch?!?!?!!
Do you even remember what The Day In Sports looked like in the Times' sports sections of the past that actually won Pulitzers looked like?!?!  Six to eight columns of agate type clustered with information.  In football season, the line scores of dozens of games around the country and the area.  In basketball season, the shorthand and apostrophes of the split column where field goals and attempts, foul shots and attempts, and total points for both teams were seen at a glance.  Updated statistics of local teams.  High school box scores, giving local kids and their parents something to clip into a scrapbook. Or, these days, something to scan and upload.
I don't want to come off as simply an old fart yelling at clouds.  I've been through this once before, when the NEW YORK TIMES made a similar decision as the pandemic was unfolding and no games were happening anywhere in the world anyway.  I knew one of the sports section editors who provided me with intel that confirmed my educated guesses:  in surveys of its readers, an overwhelming majority of readers, especially those under 50, thought box scores, standings and statistics was a waste.  I ranted on Facebook about it.  Few people, even those in my age bracket, supported my opinion, many expressing they had long ago given up on print media anyway.
Heck, even USA TODAY, which reinvented the box score and essentially launched fantasy football as a business in the 1980s, has relegated them to its struggling Sports Weekly tabloid; good luck in you finding a store that carries it.  And the LA TIMES already dealt me some body blows in the past when it dropped, in succession, its Sunday TV Book, daily TV grids and Parade magazine.
Sure, as Romero notes, the box scores are available online, and I can click on links as well as anyone her age, probably better.  And I do, when I actually have an urgency to know something.  But knowing that that large page of stats was awaiting to be perused and scanned like Berg and so many others of my generation were weaned to do was somehow more inviting and comforting.  And I learned more in the process.
Like so much else of what at least I saw of better days of yore, that's gone, likely forever. There are still a few holdout sports sections, for the moment at least, The New York Post still has a rather robust array.  But even that's a fraction of what it used to be, and even their readers aren't as obsessed as I freely admit to being.  I heard that directly from Post sports staffers as recently as January.
If nothing else, losing these boxes and stats will give me more free time to work out, walk, actually communicate with people again.  Like the vast majority of even the most dedicated fans and readers.  I'll take some solace in the newfound opportunities for exercise.  On days like this, I need all the breathing and self-love I can muster.
So rest assured I see the handwriting on the wall.  I just wish I could still see the agate print on the paper.