There's an extra sense of urgency as the United States' women's national soccer team heads into its third and final qualifying round game of the 2023 World Cup early tomorrow against Portugal, needing at least a tie to advance to the Round of 16.  The face of the team, albeit one currently reduced to a supporting role, Megan Rapinoe, took the microphones over the weekend to reaffirm the team's determination–particularly hers–that all would be OK.  As CBS Sports' Pardeep Cattra reported yesterday:
U.S. women's national team star Megan Rapinoe said her team is anxious but up for the challenge in Tuesday's decisive Women's World Cup match against Portugal, a game in which a spot in the round of 16 is on the line.
"I think, of course, there's a little bit of anxiousness any time there's a result that needs to be had," Rapinoe said ahead of the encounter. "But I think that's exciting. I think everybody knows that, too. Everybody's like, 'Okay, we have to perform and we have to perform better to get this result.' I think that is something that always gets passed down through the generations of this team. We go into these moments like, 'Hell yeah. This is exactly where we want to be.'"
Most sports sections, at least the ones still fully functioning, are in the team and Rapinoe's corner, knowing her proven success as a two-time World Cup champion in prior years is reason for optimism.  Most, of course, that don't continue to employ the sportswriting equivalent of your onetime tolerated uncle who has simply become so obsessed with what he sees as the decline of civilization that he can't even bring himself to offer anything but content.
Phil Mushnick has been reporting sports and, more recently, sports media for the New York Post pretty much since Rupert Murdoch bought the paper in 1977.  So I'm exceptionally familiar with him and his takes, the quintessential pugilistic New Yorker with a take.  So even when his snarkiness gets under the skin of the likes of drivetime radio stars like Michael Kay and Mike Francesca and they have catfights across their respective mediums, at least to me it's no big whoop.  And more often than not, while the Post's news and political coverage is unapologetically conservative, its sports pages are typically far more impassioned than they are divisive.  To me, Mushnick's biggest liability in that space is his non-stop lamenting of how good things used to be back in the day, when there were just three broadcast networks, no ESPN or sports radio, quirky broadcasters like Phil Rizzuto and Ralph Kiner were persistently available on free over-the-air local TV, and his beloved Yankees, Rangers and Nets were winning with greater regularity.
But the Mushnick that now "contributes" to the Post on a twice-weekly basis often ignores his usual targets in sports media and chooses to spend a lot of his time tapping into the mindset of a FOX News addict and somehow finds ways to express his yelling at clouds views towards those in sports who set him off.  And this past weekend, it was Rapinoe and her teammates:
What happened? Who started it and why?
When will it end? Will it ever end? Or is it over when it's over for you when you no longer can stomach it?
Why have the most influential forces in sports — TV execs, advertisers, the media, and the top administrative authorities — determined that our sports be denuded of sports? Why have the conceited, vulgar, and selfish — assorted creeps antithetical to sports — been given the keys to the kingdom?
Even if it remains flabbergasting, it's hardly a surprise that Fox and marketing geniuses seized upon the overwhelming disgust with Team Obnoxious, the 2019 US Women's World Cup Championship team — a literal turnoff among even the most willing and eager "USA! USA!" chanters — then repackaged it as the reason to again both watch and root for "our gals."
Again, the excessive, me-first, all-about-me antics of vulgar Megan Rapinoe, wildly unpopular among her country's right-minded populace, has been restored as someone everyone loves and admires.
And what have Rapinoe and her teammates done of late to merit this vitriol?  And where might Mushnick have gotten the inspiration for it?
Well, perhaps from this earlier missive from his Post colleague Katherine Donlevy:
Most members of the US women's soccer team stayed silent during the national anthem before its World Cup opener Friday against newcomers Vietnam — who passionately belted their nation's tune.
The majority of the reigning women's World Cup champion team stared stoically ahead as the "Star Spangled Banner" blasted across New Zealand's Eden Park arena.
Only five of the 11 players who stood on the field for the anthem — with young, aspiring players standing before them — placed their hands over their hearts, while their six teammates kept their digits clasped behind their backs, video shows.
Funny, that seems to be exactly the kind of self-serving pandering to his employer's way of inciting emotion that Sports Illustrated's more balanced and progressive answer to Mushnick Jimmy Traina observed from another of Mushnick's rants a few days prior:
New York Post columnist Phil Mushnick ripped WFAN's morning show, Boomer and Gio, over the weekend, but there was one teeny, tiny problem.
It seems Mushnick was upset that Gregg Giannotti and Jerry Recco, filling in for Boomer Esiason that day, picked up on it and had some laughs about a ridiculous story regarding men in the Hamptons getting penis injections so they'd look better in shorts and bathing suits.
So, where did Giannotti and Recco get this hard-hitting story? From Mushnick's own company, the New York Post!!!
Not only that, the Post made sure to put "exclusive" all over the investigative piece.
Not only that, the Post story included a video that featured a guy holding a cucumber over his crotch.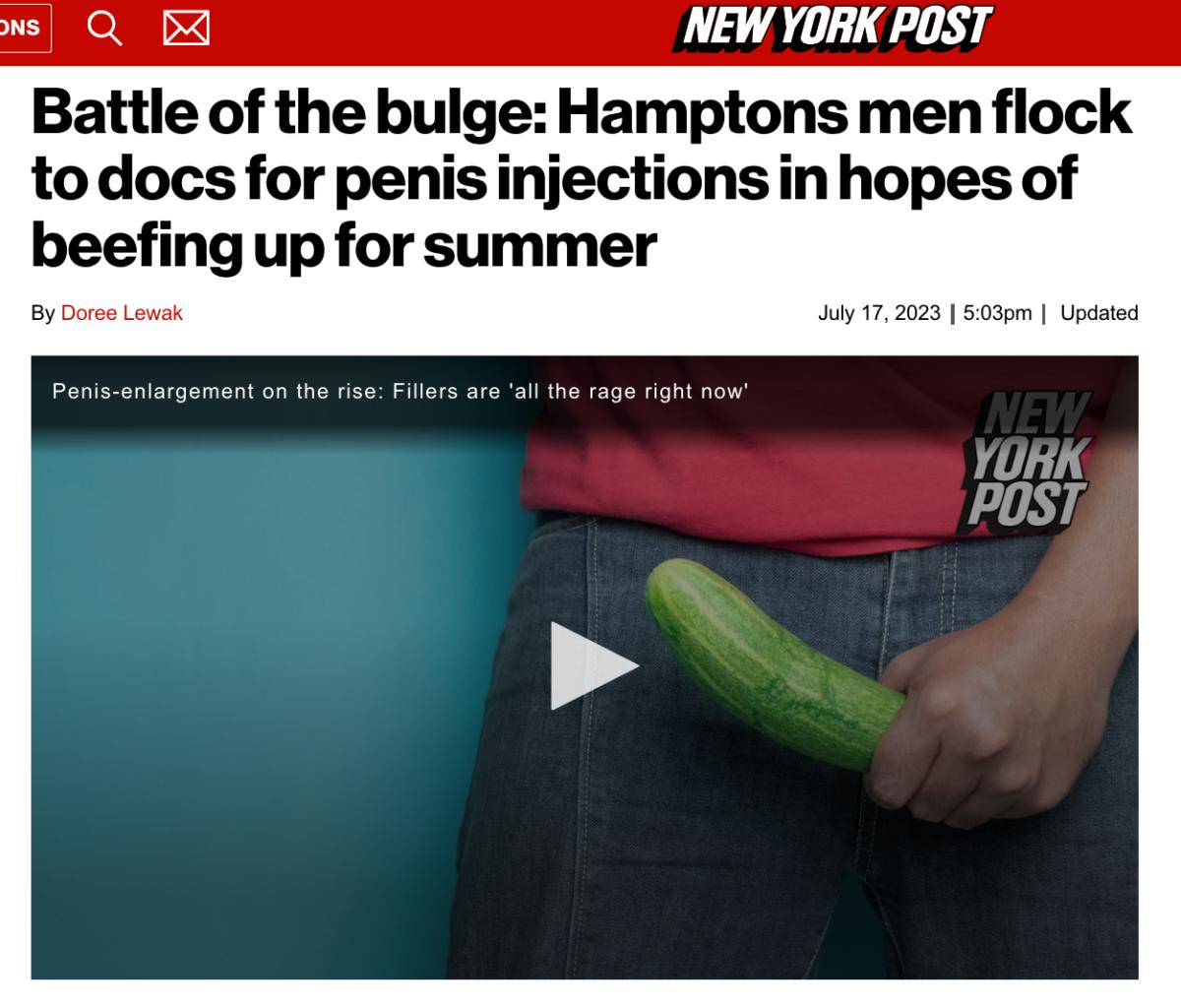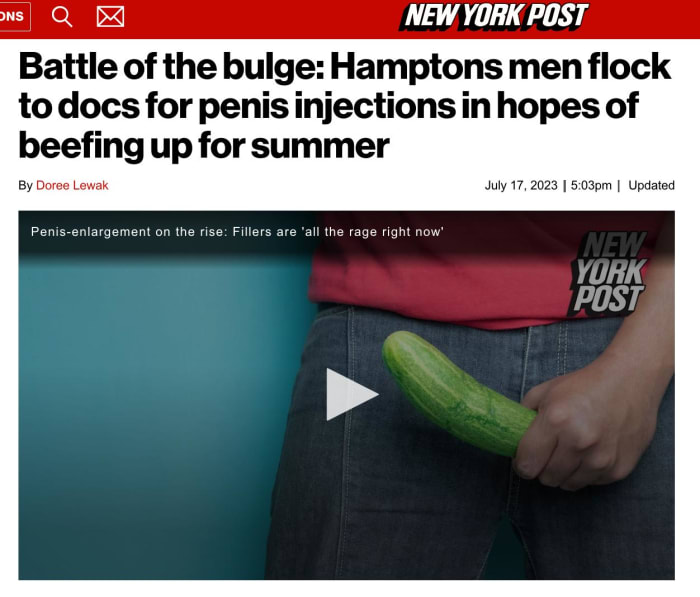 Ah, poor, demented Uncle Phil.  Now there's a proud look that any red-blooded 'Merican should exemplify.
One could even pile on that perhaps the fact Rapinoe and others are as unapologetic about their sexuality and their frustration with a country that increasingly and alarmingly taking imbrage with it, stoked on by the kind of banal cloud-yelling that cockblocked old farts like Mushnick aim in their direction could be a possible legitimate reason that they might not feel quite as motivated to warble an anthem as, say, some second generation survivors of a wartorn country where actual Communism reigned rampant.
But nah, why even bother having that kind of forward thinking approach regarding someone as close-minded and trapped in a time warp as the likes of Phil Mushnick?
So yes sirree, even this old fart Post reader, who will in spite of Mushnick's column support perhaps the one daily I will have regular access to for at least the time being that will continue to print box scores and stats with regularity, will root like hell for the USWNT tomorrow and beyond.  And will cheer if and when someone like Alex Morgan scores and does something like that Mushnick went on to say provoked him even more:
In the US's 2019 win over England, Alex Morgan scored, then ran to the sidelines so all could see her mock the opponents by miming English tea time.
It was standard classlessness for a classless team that already twice this month has made it clear to an international audience during our national anthem their shame in representing the United States.
I suppose Mushnick has imbibed enough with his many British colleagues over the years to take offense at something like that.  I strongly suspect it was something stronger than tea, knowing the types of heroes he considers worthy.
Didn't hear much from them.  But, hey, Phil, you fight those windmills on their behalf.  The ones nearby your demagogue's Scottish golf course, I suppose?
So please, ladies, win out, raise the cup, and then someone, anyone, take the ridiculous shot of this crotchety dinosaur who adorns the top of today's page and aim a soccer ball directly at his mouth.  Or AI-it and aim a notch lower.
Go ahead.  He deserves it.
Courage…