It's not often that someone reacts strongly enough to what's written here that they're motivated to personally reach out, intelligently present a conflicting opinion, and then offer to buy you lunch in order to provide more detail as to why they so passionately believe I'm a dope.
But that's exactly what happened earlier this week when a longtime friend met for some damn good sushi, and he continued to admonish me for my previously expressed opinion regarding the Dodgers and pitcher Trevor Bauer once his record suspension was reduced to a still-record 194 games from the 324-game suspension he received in 2021 after a San Diego woman accused him of beating and sexual abuse.
Turns out said friend is neighbors with someone high up in the Dodgers' hierarchy, and he has really good insider knowledge of the thinking that had already gone on before the meeting that was taking place as we were sampling jalapeno yellowtail (spectacular, btw).  So the terse statement that this Dodgers released yesterday was essentially already known to him as he encouraged me to consider his POV: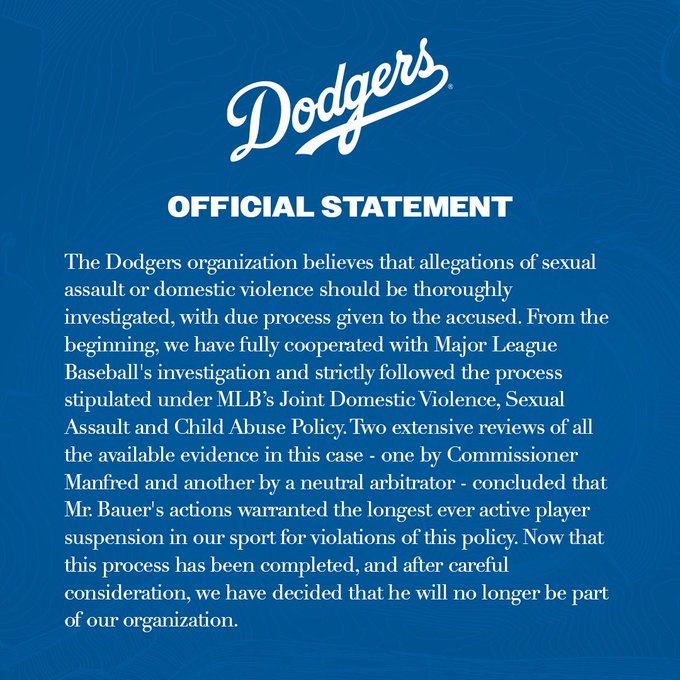 On Thursday we ate sushi.  Yesterday, deservedly, I ate crow.
As Los Angeles Times sports editor reminded his readers, me especially, yesterday, the amount of money the Dodgers will lose on Bauer is mere chump change considering what else was at stake:
They spent $22.5 million to reaffirm their place as a leader in this community.
They spent $22.5 million to reset the personal conduct standard for their employees
They spent $22.5 million on Los Angeles.
Yes, Vin Scully is dead, and Rachel Robinson's 100, as I regrettably snarked.  But Magic Johnson and Mark Walter are very much alive.  And so are a lot of other executives and board members (e,g, Billie Jean King) to whom allegations like this really, really matter.
And in a sign of acknowledgement that perhaps I wasn't fully half-baked in my opinion, Plaschke himself channeled my rationales for my initial beliefs quite eloquently:
Make no mistake, this move carries a trio of huge risks — in the stands, in the clubhouse, and on the field.
In one stunning development, a Los Angeles Times poll revealed that the majority of respondents wanted Bauer to return to the team.
Not quite as surprising were the reports that some current players contacted by the Dodgers were also in favor of his return.
Then there's the matter of the Dodgers' paper-thin starting rotation, into which the former Cy Young Award winner would have fit as one of its most important pieces.
If Bauer wasn't going to be the actual ace, he would have been a close second. If Bauer ends up pitching for one of the Dodgers' rivals while they continue to pay his salary, management will be criticized all summer. Seriously, can you imagine him as a San Diego Padre?
Well, the Padres have some scruples, and they also represent Southern California morals and values.  But consider this version of truth that emerged from Bauer himself on (shocker!) Fox News.com when the Dodger release came down:
Bauer released a statement after he was designated for assignment, saying Dodgers leadership wanted the 2020 NL Cy Young Award winner to pitch for the team in 2023.
"Following two weeks of conversations around my return to the organization, I sat down with Dodgers leadership in Arizona yesterday who told me they wanted me to return and pitch for the team this year," Bauer said.
Bauer was accused in 2021 of sexual assault by a San Diego woman he met via social media. Bauer says all actions between the two were consensual, saying the two engaged in rough sex at his Pasadena home at her suggestion and followed mutually set guidelines in advance. He said each encounter ended with them joking and her spending the night.
The Times' account has Dodger officials vehemently denying any offer similar to what Bauer asserted was made to him actually was.  But, sadly, I do personally know otherwise amazing women who have the kind of sexual appetite that Bauer claims she did, at least in the moment.  And I also know a lot of people who read FOX News.com are baseball fans and, if they're anything like Kevin McCarthy, they'll believe almost anything.]
Bauer's clear evidence that even the best of them are more than capable of self-delusion.  The Dodgers also told many sources privately that they attempted to trade him to save face.  According to those sources, even though they'd only be responsible for the minimum $720.000 out of the $34 million Bauer is due in 2023, no competing team showed interest.
Sorry, I still believe that while opinions are this dug in in January, by the time we get to July or August, in the heat of a pennant race and after inevitable injuries set in, someone will figure out Bauer's still in shape (perhaps with the help of a consenting adult) and will indeed sign him.  I am convinced it won't be the Dodgers, no matter how desperate they may be at that time.
But how's this scenario for plausibility?:
Trevor Plouffe said on the Talkin' Baseball MLB Podcast earlier this week, "I do think he ends up pitching for somebody."
Plouffe listed the Houston Astros as a potential landing spot for Bauer. The defending World Series champions lost ace and three-time Cy Young Award winner Justin Verlander to a free-agent deal with the New York Mets, and they haven't shied away from players with similar issues.
The Astros acquired Roberto Osuna from the Toronto Blue Jays at the trade deadline in 2018 while the closer was serving a 75-game suspension in the wake of his arrest in Toronto for allegedly assaulting his girlfriend.
Osuna went 4-3 with a 2.63 ERA and 38 saves in 2019 for the Astros, who lost a seven-game World Series to Washington.
And we all know the kind of minds that are in control in Texas these days.  (Same party that dragged McCarthy through the political mud this week, too).
So, yep, Houston's a possibility.  Think the Dodgers won't have company in hating the 'Stros if that occurs?  Yankees fans?  Mets fans?  Mariners fans?
The way I see it, there's ultimately only one inspiration to draw from, and one wish to hope for.
That which was expressed by Young Eddie Murphy in EDDIE MURPHY RAW.
Yes, indeed, kick him in the ding-ding.
Hit him hard and drive him out of any game he might pitch against the Dodgers in 2023.  Have him do the kind of walk of shame he alleges his consenting friends might have done after a night of passion, only his will be in front of 55,000 or so jeering fans after giving up a couple of monster homers in a big game.
But if you're to believe Bauer's version of his dates' kinks, were that to happen, he might enjoy it.
He might even enjoy an actual kick to his ding-ding.
After careful reconsideration, not only won't I stop you, I'll actually cheer you if you do.
He deserves it.
Now excuse me while I purge my sensitive stomach of this crow.
When I can next afford it, I'll gladly have some more sushi.
Courage….