I have to admit, my passion for sports stems from the element of surprise.  There is simply no scripted entertainment, no MCU movie, no Broadway play, no book that can produce the unique experience of a storyline paid off in real time.  Particularly when the results exceed your expectations.
Expectations are forged often by perception, not reality.  The New York Rangers faced a Game 7 in Raleigh last night against the Carolina Hurricanes.  Each of the previous six games was won by a home team, and Carolina was unbeaten so far in this year's Stanley Cup Playoffs at home.  And lately, let's just say life is making it harder for me to be blindly optimistic.  So my hope was for the 'Gers to be competitive, and perhaps be satisfied with a pyrrhic victory, making it to the final five in Gerard Gallant's first year as coach and being happy with getting this far.
So, like my all-time favorite singer James Taylor, I went to Carolina in my mind tonight, or at least turned on ESPN.  And, true to form, the Rangers were not competiitve.
They were friggin' DOMINANT.
Adam Fox scored the game's first goal  less than four minutes in to allow the Rangers to draw first blood, and soon after the 'Canes' Seth Jarvis was knocked out of the game via a devastating hit from defenseman Jacob Trouba.  When Jarvis was attempting to leave the ice, Carolina was called for too many men on the ice, giving the Rangers a power play.  Soon after, Chris Kreider scored the first of his two goals, the Rangers were up by 2, and the rout was on.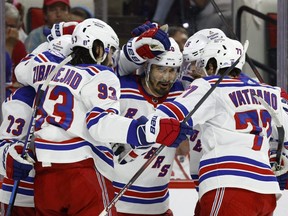 Each time the Hurricanes did score, the Rangers answered with a goal of their own.
And Igor Shesterkin?
A mere 37 saves, acrobatic saves, and a goals-against average of less than 2 in a seven-game series against the Eastern Confefence's number one seed.
The Hurricanes are an example of a team that owns their market.  Raleigh-Durham is not Charlotte, which has the Panthers, Hornets and Charlotte FC, and was previously best known as the home of minor league baseball and Bull Durham before ESPN's favorite local team, the Hartford Whalers, fled Connecticut to land there in the late '90s. There's no other major league team located there.  So its fans are rabid, fiercely loyal, and often quite loud.  They sure were for the first three home games.
Not last night.  By game's end they had lost their otherwise stellar goalie, Antti Raanta, to injury as well, and their season was at an end.
I'm in an empathetic mood these days by default, so as the cameras panned the bench and stands to see the frustration and despair emerged on their faces as the Rangers stormed toward their win, I felt a little bad for them.  But only briefly.
These Rangers have some impressive stats of their own.  They're 5-0 in elimination games this postseason, and have now survived two grueling seven game series in a row.  They now get ready for the two-time defending champion Tampa Bay Lightning, still seeking their first traditional season Stanley Cup.  And they will have home ice advantage.  Hockey at MSG in June again. 
Shades of 1994.
OK, not quite yet.  Tampa's formidable, asterisk seasons aside.
Andrei Vasilevskiy is merely one of the best goalies in the game, and allowed less than one goal a game to the conference's number one seed, making a whole bunch of human and feline fans quite sad in the process.  And let's not forget Edmonton or Colorado may have something yet to say about all of this as well.
But the Rangers went to Carolina in person, and served notice they're in this to win it. And with all else going on, Lord knows I needed this.
Isn't it amazing a man like me can feel this way?
Courage…