Spring Training games Saturday. As I write this the Cubs are 2-4, that includes a split-squad outing yesterday. It is still too early to tell what offensive holes there still are following an offseason that was filled with moves relating to everything other than pitching.
Even so, I still believe things are on the way back up. Let me detail the biggest moves of the offseason to explain why I think as much.
Cody Bellinger –
I really disliked him after he came up with the Dodgers. However, I still feel that they should have won the 2017 World Series. He was a rookie in 2017 and the Dodgers were losers as a result of the CHEATING Astros. 
He signed a one year deal. After signing he said he said he wanted to be a Cub since he was a kid. 
Do I think he actually meant what he said at the core of the statement? Absolutely not! I think he was merely saying something to appease Cubs fans.
Do I think he said it because he is aware of the fact that his rookie season was right after they broke their draught? You bet!
All that said, I think he is the Dexter Fowler of 2015 on this years team because he will be starting in Center Field and he won MVP in 2017.
Eric Hosmer –
I never heard of this guy until the Cubs signed him. He came up with the Kansas City Royals then went out to San Diego the last few years. With a .336 career On Base Percentage (OBP) I think he could be the answer at first after looking at his career data!
Tucker Barnhart –

He is the hardest one for me to talk about for obvious reasons! So, I will start with the least obvious reason.
Willson Contreras was in the Cubs organization when Tom Ricketts and family took over. I believe Jed Hoyer had a specific directive to trade everyone from the 2016 Core away after Theo left in 2020 due to the pandemic. I believe his directive was to trade all of the infielders away and get what he could even if it meant it was a bag of balls! He used the system correctly to make sure he got at least a draft pick. I am okay with that because at the end of the day Contreras was the last player left from the Tribune ownership days.
Now it is Tucker time! He has played mostly Catcher, First Base and Third Base in his career. He has a .320 OBP and 7.20 Wins Above Replacement (WAR). At the end of the day Willson's 20.8 WAR is completely overblown because of a WS championship his rookie season and I think Tucker will do a better job framing pitches before the league moves to automated ball/strike calls and fewer umpires on the field!
In essence, the Universal DH rule added after the 2022 lockout forced the Cubs to let Willson go for nothing but a draft pick.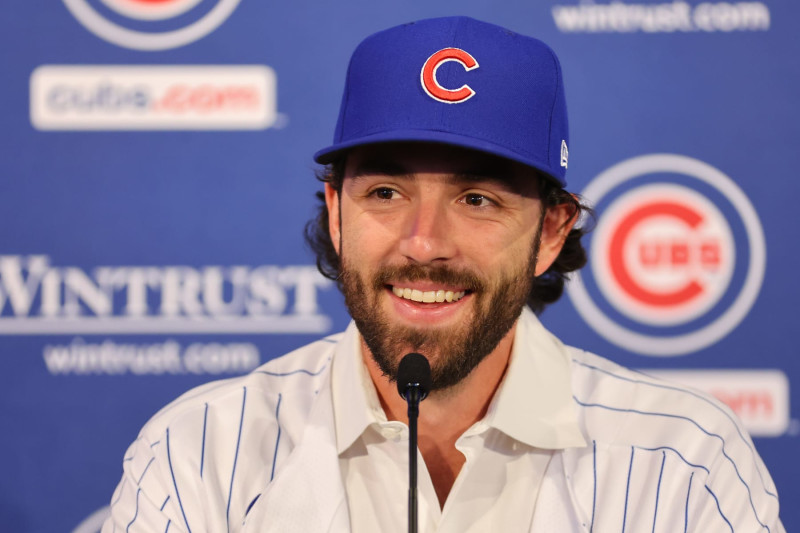 Dansby Swanson –
Why is a Nico Hoerner being moved to second base? Simple. He has played at the major league level since 2019.
I am willing to bet that Swanson and Hoerner both control the right side of the cubs infield for the next 10 years. While that is an easy bet for me to make after Hosmer signed a 7 year deal…. I am pretty sure that they will split time at all three positions on that side of the field and be part of the next championship baseball team in Chicago.
_________________
With that, it is important that I add a couple notes about this past winter.
Ian Happ –
Like his 2023 teammate Bellinger he was brought the the majors in 2017. That means he is in his contact year… so to speak.
After the Manny Machado extension yesterday Happ's demands went up. While that is realistic… I do not think, Cubs President of Baseball Operations Jed Hoyer has even made a single offer to Happ yet.
Nico Hoerner – 
He played his first game in the majors two years after his teammates Happ and Hosmer.
I believe Jed will sign him to a five to seven year extension next off season… then he will go and talk to Happ.
After that it will be all about the $50 million dollar man Shohei Ohtani. Being optimistic here… I believe that Tom Ricketts told Jed Hoyer to save up for Shohei. We will find out next winter.
With that… it is time to play ball!
If you cannot play with them, root for them!